HiTech Industry Management Software with POS Billing Accounting
---
Billwise Product Sales
trbwps.bmp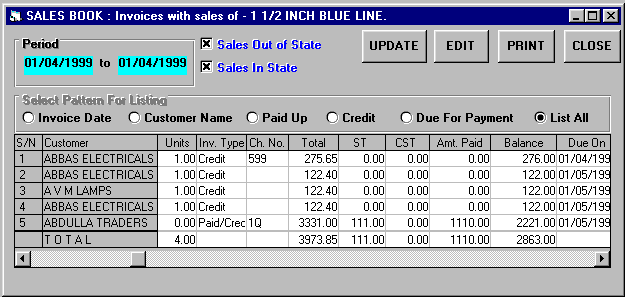 Billwise Product Sales - Integrated suite of accounting, ERP, e-commerce software for Trading, Industry, Business and services. Web based applications and software (Software that run in Browser) for business. - Software for process industry, Accounting, ERP, CRM Software for manufacturing industry, ERP, CRM and Accounting Software for Industry, Manufacturing units. Modules : Customers, Suppliers, Inventory Control, Sales, Purchase, Accounts & Utilities. Free Trial Download. Computerized Business Management, Accounting Software for Trade, Industry, Financial Accounting and Business Management software for Traders, Industry, Hotels, Hospitals, Supermarkets, Medical Suppliers, Petrol Pumps, Newspapers, Automobile Dealers, Commodity Brokers etc.
Bill wise product sales calculates the product sales of a product for a particular period. To make use of it select the option
Bill Wise Product Sales
under the option
Stock Movement Analysis
under the menu option
Inventory Control
. As it is selected a small window is displayed which asks to select the product, you can select it by drop down list or can also enter the product name and enter the period (This period should fall under the financial year ). If you want to proceed further click the button
Proceed
else click
Cancel
to abort your action.
After selected to proceed, a window named
Stock Item Movement Register
will be generated which further opens a new window which displays various information like Customer, Inv. number, Date, Units sold, Inv. type, Amt paid, Debit note, Credit note, Recovery, net to pay etc. about the product depending upon the pattern selected for listing.
The patterns available for listing are : Invoice date, Customer name, Paid Up, Credit, Due for Payment, List All.
If you want to list only the report for sales out of state then check the check box
Sales Out of State
, if you want report for sales in state then click the check box
Sales in State
, to see combine report check both the check boxes as in default case.
To update the record click the button
UPDATE
, to edit the record click the button
EDIT
which will further open the Cash Memo.
To print the report refer
Print Using Hitech Print Engine
To get exit from this bill click the right button and you will see the
Stock Item Movement Register
For more details refer :
Stock Item Movement Register / Stock Register