HiTech Industry Management Software with POS Billing Accounting
---
List Of Quotations
trlqls.bmp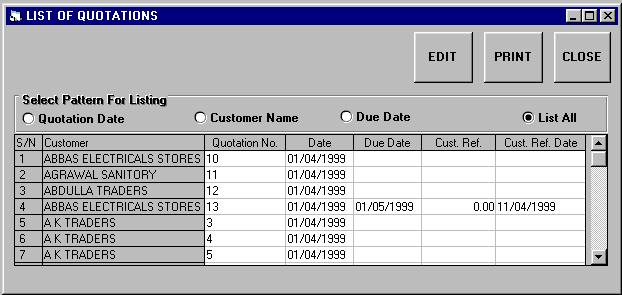 List Of Quotations - Visit for trial download of Financial Accounting software for Traders, Industry, Hotels, Hospitals, petrol pumps, Newspapers, Automobile Dealers, Web based Accounting, Business Management Software. - Financial Accounting Software for Business, Trade, Industry, Use HiTech Financial Accounting and Business Management Software made specifically for users in Trade, Industry, Hotels, Hospitals etc. Increase profitability through enhanced business management. Industry Specific Software, Accounting, ERP, CRM Software for Industry, ERP, CRM and Accounting Software for Industry, Manufacturing units. Modules : Customers, Suppliers, Inventory Control, Sales, Purchase, Accounts & Utilities. Free Trial Download.
To display quotation list give Menu Command
List of Quotations.
Quotation List will be displayed. It consists of Customer Name, Quotation No., Date, Due Date, Customer Reference and Reference Date. By default the Quotation List is displayed for last one month. This period is displayed in the frame marked period.
Press the appropriate option button if you want to list quotation entries selected as per the criterion listed in patterns for listing. If you want to list all quotation entries press the option button
List All.
To see all quotations for a particular due date click an option
Due Date.
Enter the date in displayed text box and press
Ok.
All quotations with this Due date will be displayed.
Any period can be selected for displaying quotation entries of that period. To select period press option button
Quotation Date.
Enter the two dates in the text boxes which will be displayed. Press command button
OK.
All quotation entries for that period will be displayed in the list.
To see quotation entries pertaining to one particular customer press option button
Customer Name.
Enter the name of the customer in the text box which will be displayed. To find the customer from the list press
Find
command button. List of customers will be displayed. Bring focus to the desired customer name or click the name and then press
OK
on the customer list. Customer name will appear in the frame marked Give Customer Name. Press
OK
here once again. Now only the quotation entries belonging to that customer in the selected period will be displayed.
If you want to print or edit any quotation then first bring that particular quotation in focus in the grid by using tab and arrow keys or click it with the mouse in the grid. Once the quotation is in focus then press command button
Edit.
That quotation will be opened for edit. Edit / Print the quotation like you edit any other quotation. When you close the Edit window you will return to Quotation List. Any changes which you made in the quotation will not be reflected in the quotation list until you prepare the quotation list again by pressing the appropriate option button.
To print Quotation List please refer to :
Print Using Hitech Print Engine