HiTech Industry Management Software with POS Billing Accounting
---
Periodic Sales & Stock Statement
Periodic Sales & Stock Statement, Inventory Control Module
inipsst.bmp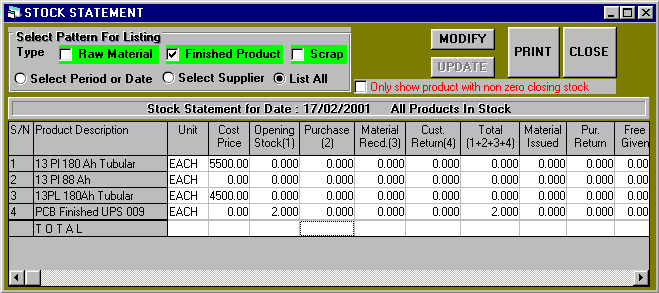 Periodic Sales & Stock Statement; Inventory Control Module - Inventory control POS software with accounting and enterprise resource planning system for trade, business and industry. Order Processing, Billing; Inventory Labels with barcodes support; Barcode scanning software. - Financial Accounting Software for Business, Trade, Industry, Use HiTech Financial Accounting and Business Management Software made specifically for users in Trade, Industry, Hotels, Hospitals etc. Increase profitability through enhanced business management. Industry Specific Software, Accounting, ERP, CRM Software for Industry, ERP, CRM and Accounting Software for Industry, Manufacturing units. Modules : Customers, Suppliers, Inventory Control, Sales, Purchase, Accounts & Utilities. Free Trial Download.
Sales and Stock Statement is a report from inventory module of the program. It calculates the opening and closing stock positions, Sales, Sales Returns, Purchase, Purchase Returns, Free given and Bad stock for any period which can be selected before preparing the report. It means Stock and sales statement can be prepared daily, weekly, monthly, yearly as per your choice. Also the stock statement can be prepared for a gone by period. This statement also product wise displays the value of the stock and sales. To get the periodic sales and stock statement select menu command
Periodic Sales and Stock Statemant
under main menu heading
Inventory Control
.
First select the pattern according to the type of material, use the following options : click the check box
Raw Materials
if the type desired is raw materials, click the check box
Finished Product
if the type desired is finished product, click the check box
Scrap
if the type is scrap.
To select the pattern supplier wise click option button
Supplier Name
, press command button
Find
and select one of the supplier from the
Supplier Selection List
. Press command button
OK.
The list of the products belonging to that supplier will be displayed. To list all products press option button
List All
.
To select the pattern period wise click Select Period or date, for more detail refer
Period Selection
You can modify the closing date by first modifying the opening date ( this message will be displayed when you click the button
MODIFY ) and then click button UPDATE
.
This statement can be printed as per your choice where you can decide which column of the report you want to print. Just drag the grid lines in the report to show or hide columns in the printed report. To print the report refer :
Print Using Hitech Print Engine
Please see the following related topics :
Good Stock Vs. Bad Stock
How to prepare Sales and Stock
Statement
How to modify the closing stock