HiTech Industry Management Software with POS Billing Accounting
---
Making Voucher Entries
Vouchers : Creating, Making Voucher Entry, Accounts Module
travre.bmp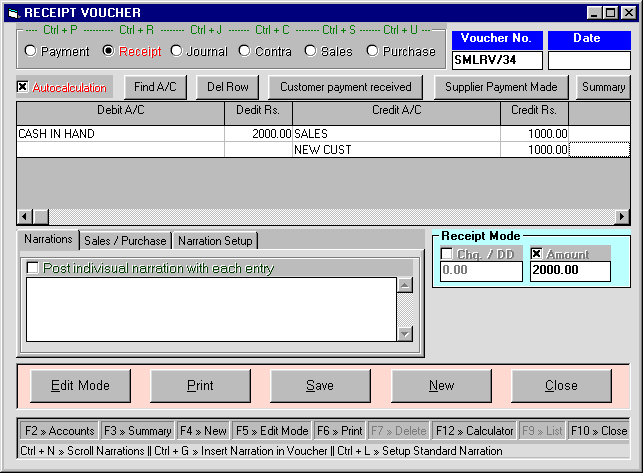 Vouchers : Creating; Making Voucher Entry; Accounts Module - The ultimate website for finding accounting software for various business segments with free downloads and your #1 resource for staying on top of the latest industry news and trends. - Financial Accounting Software for Business, Trade, Industry, Use HiTech Financial Accounting and Business Management Software made specifically for users in Trade, Industry, Hotels, Hospitals etc. Increase profitability through enhanced business management. Industry Management Software, Accounting Software for Industry, Business Management and Accounting Software for Industry, Manufacturing units. Modules : Customers, Suppliers, Inventory Control, Sales, Purchase, Accounts & Utilities. Free Trial Download.
To make voucher entries give Menu Command
Voucher Entry
. Voucher Entry window will be displayed. All six types of voucher can be made namely : Payment, Receipt, Journal, Contra, Sales & Purchase vouchers. By default Receipt Voucher is displayed. To select any other type of voucher click the appropriate option button. When Receipt or Payment Voucher is selected then the Payment Mode frame is also displayed.
By default the next available voucher number will be selected according to the type of the voucher and voucher date will be last entry date and not the current system date. You can change it to your desire. In the voucher grid there are four columns : Debit A/C, Credit A/C, Debit Amount Rs. & Credit Amount Rs. Appropriate entries in all four columns must be made for correct posting in ledger. If there are more then one account head to be debited or credited then all of them should be entered on appropriate side.
To select accounts heads there are three different methods. First bring the appropriate cell in the grid ( Debit A/C or Credit A/C ) by clicking with mouse or by using tab and cursor keys. When the cursor is on the appropriate cell then press command button
Find A/C
. The list of accounts will be displayed. You can select appropriate account head from the list by typing its name when the grid is in focus or by using mouse or cursor keys. Press command button
OK
. The selected account head will be entered in the cell of the voucher grid. To select account head without displaying the list type the first distinguishing part of the account head name or the account code in the cell of the voucher grid. When you move to next cell by using cursor keys then the full account name will be filled in the cell. If no matching account head is found then the account head list will be displayed by itself for you to select the correct account head. Press enter if you want to enter another account head in the same column. Another row will be added in the voucher grid. When you have finished entering the account heads then enter the appropriate amounts in the debit and credit columns. The totals of debit and credit amounts should be equal. If they are not then a message saying "Entry Incorrect or not balanced." will be displayed. Check your entries for any mistakes.
While making Receipt Voucher, cash by default comes on Debit A/C. You can change it into Bank account if you like. And if you try to enter cash or bank account in Credit A/C it will display the message "The cash or bank account for Receipt voucher can be made in Debit A/C. Similarly while making Payment voucher, cash by default comes on Credit A/C and you can't enter cash or bank account in Debit A/C.
If any transaction by cheque is made then press option button
Cheque
. Cheque (x) Check box will be enabled only when any one of Debit or Credit account is a bank account i.e if Debit or Credit account are not bank account then Cheque check box will be disable. Cheque details frame will be displayed on clicking the cheque box and by default the amount grid have entry same as the entry you have made in Debit Rs or Credit Rs box. Cheque date, number, amount and bank name can be entered here. If you want the cheque details to appear automatically in the narration then click check box
Add Narration
. To close the cheque details frame press
Close
. Once you close this frame the cheque details will appear in the narration if add narration check box was checked.
To add more in the narration type in the text box provided for narrations. You can also select a narration from the narrations which are already set up. To do so display the appropriate narration in the Narration Select / Setup Frame by using the associated data control. When the narration you want is displayed here then press command button
Select
. This narration will be added to whatever is entered in the narration text box. For sales and purchase vouchers bill no., date and Party tax no.
When you have finished making entries then press command button
New
on the
Memo Command Button Group / Panel
to save this voucher and go on to make new voucher. You will asked whether you want to save the voucher. Answer Yes if you want to do so. The voucher will be saved and new voucher will be displayed. You can also click
EditMode
directly. If you want to make no more vouchers press command button
CLOSE
. You will be asked if you want to save the voucher. After your response the voucher entry window will close and you will return to main program window.
At the bottom of the window there is shortcut panel. It contains list of functions keys to makes entry faster. On pressing various function keys the facilities we get are as follows. These commands can also be issued through the panel.
F2 : Select A/C. Instead of clicking on command button
Find A/C
we can directly display the list of account by pressing this function key.
F3 : Show the summary of accounts filled in the current voucher.
F4 : New Voucher. Instead of clicking on command button
New Voucher
we can directly display the window for editing New Voucher by pressing this function key. And you can close this window directly by pressing function key F10 : Close Voucher Entry.
F5 : Switch to Edit mode or to Add Mode.
F6 : Print the current voucher.
F7 : Delete the current voucher.
F9 : Show the list of existing vouchers. Works only in Edit Mode.
F12 : Popup the Calculator.
By pressing Ctrl key along with the alphabet R,P,J C, S or U we can switch directly to any one of the six voucher types Receipt, Payment, Journal, Contra, Sales or Purchase respectively.
Ctrl + N button will scroll the narrations in Narration Select / Setup in window at left bottom corner.
Ctrl + G button will insert the selected narration in field i.e window titled Narration.
Ctrl + L button will set up a new selected narration.
All vouchers when they are saved are posted in the ledger automatically if the Post Ledger Automatically check box is checked in the invoicing preference setup.
As long as the voucher entry window is displayed you can do nothing else but making the voucher entry. The main menu will become accessible only when you close the voucher entry window.
Please also see the following related topics :
Setting up Narration
To print the voucher please refer to :
Printing Using Hitech Print Engine
Please also see the following related topics :
Setting up Narration
Receiving payment against credit sales
Making payment against credit purchases